Sports Awards 2018
Corporate Social Responsibility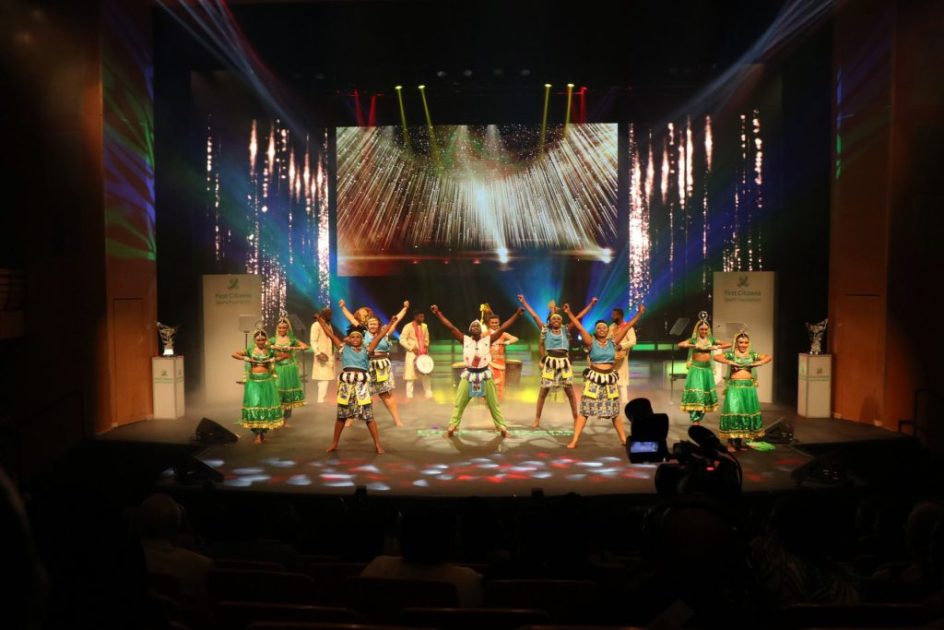 The First Citizens Sports Foundation held its 56th Sports Awards ceremony on Saturday 16th March, 2019 at the Queen's Hall Auditorium. Over 100 athletes from over 32 sport disciplines were honoured. The event also recognized the top sporting administrations (small and large categories) in Trinidad and Tobago and our Special Olympic athletes. Tribute was also paid to the "fallen soldiers" in the sporting fraternity that past during the year 2018. Specially invited guests which included the Honourable Shamfa Cudjoe, Minister of Sport and Youth Affairs were taken on 2018 sporting journey reminiscing on the highs and lows for the period. The triumphant winners that were crowned that night included:
Sportsman of the Year 2018 – Jereem Richards (Athletics)
Sportswoman of the Year 2018 –Michelle-Lee Ahye (Athletics)
Youth Male of the Year 2018 – Master Kael Yorke (Swimming)
Youth Female of the Year 2018 – Miss Shaniqua Bascome (Athletics)
Jeffrey Stollmeyer Award (Large) – National Association of Athletics Administration of Trinidad and Tobago
Jeffrey Stollmeyer Award (Small) – Trinidad and Tobago Chess Association
Lystra Lewis Award – World Indoors men's 4×400 team placed 4th in the competition and set national record. The team members were Deon Lendore, Jereem Richards, Asa Guevara, Lalonde Gordon
The WOW Moments in sport for 2018 looked back at those moments that brought national pride to Trinidad and Tobago both locally and internationally. Here are the highlights:
Michelle-lee Ahye – (athletics) She won a gold medal in the Commonwealth Games. She is the first female to win the first gold medal for T&T in this competition which is a milestone achievement.
Jereem Richards – (athletics) He won a gold medal in the Commonwealth Games.
Nicholas Paul – (cycling) Participation at the CAC and Pan American Championships where he set a World Record with a 200m in 9.3 seconds
Teneil Campbell – (cycling) She is the first female cyclist in T&T to win gold medal and win the title in road racing
Khary Pierre – (cricket) He caught and bowled 3 for 29 and had remarkable dismissal in the CPL Final. It was also his breakout year and he won "Man of the Match".
Sheldon Lawrence – (boxing) He beat Shawn Corbin in Guyana and won a World Title
Keron Cummings – (football) His "piece of skill" and second goal scored montage of his goals in the First Citizens Cup 2018 final.
Keshorn Walcott – (athletics) He won gold in CAC Games after come from injury to do an 84.79M throw in the finals.