First Citizens Visa Debit Card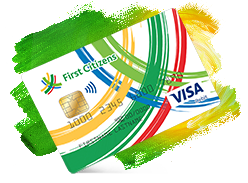 Take the First Step to Safety
No need to come into a Branch! We will deliver your card to you!
Step 1 – Your Card will be delivered to your doorstep!
To track the location status of your debit card
TTPOST will deliver your debit card and the "Interactive Electronic Services Agreement" which enables you to use the electronic services required for activation of the card. If you already have these electronic services, an updated copy will be returned to us to place on your file.
TTPOST will safely and confidentially return your signed Agreement to us. An agent will then contact you to register for Online Banking & Telebanking.
Important to note: You should activate your new card as soon as you receive it as your existing card will be disabled one (1) month from the date on your letter within the package.
Step 2: Self activate your card using Telebanking via 223-4322:
Here's what you need to do when your card has arrived:
1. With your new card in hand, call 223-4322
2. Select Option 1 for the Self Service System – you will be prompted to enter your CIF number which is the same as your User ID for Online Banking and your Telebanking PIN. If you cannot remember your Telebanking PIN, please follow the instructions to reset your Telebanking PIN via Online Banking:
Click on the "My Home" Tab
Select the "Security Information" Tab
Authenticate by entering your existing password within the first field then scroll down to Telebanking PIN
Enter and Confirm your New 4-digit Telebanking PIN in the relevant fields
Click submit and you are finished.
3. Using the Self Service System Option #1, Select Option #6 to activate your card
4. Enter your 16 digit card number, the last 4 digits of your account number and your date of birth in the format yyyy-mm-dd e.g. if you were born January 1st 2000, enter your date of birth as 2000 01 01
5. Choose a four (4) digit PIN only known to you and that you will remember
6. Your card will now be activated and can be used immediately
Click on the Visa Debit Card Brochure for further product details.