First Citizens Launches APO 2022
Press Release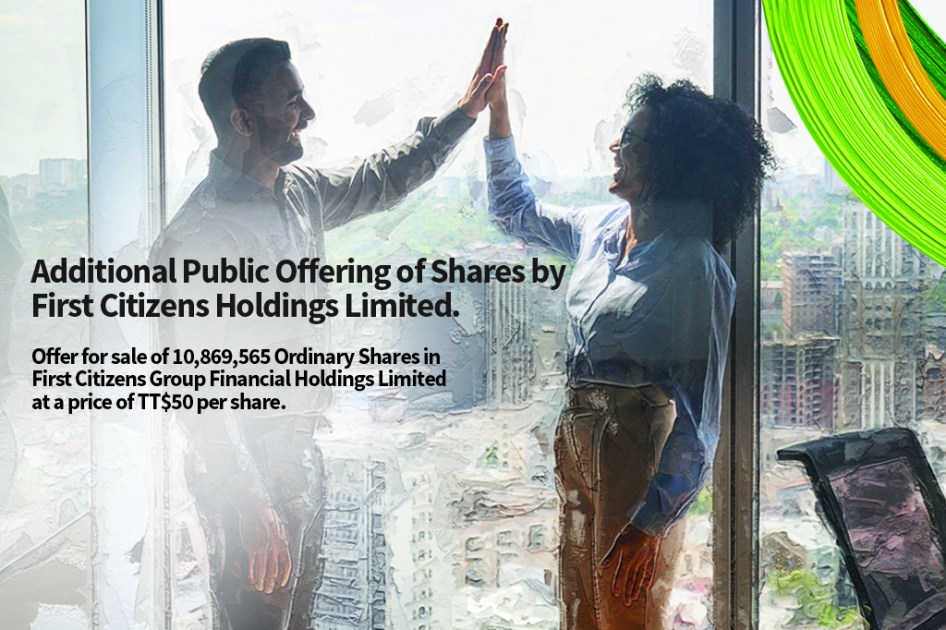 First Citizens advises that on June 28, 2022 it launched an Additional Public Offering (APO) of shares at an offer price of TT$50.00 per share. This follows an announcement by the Government of the Republic of Trinidad and Tobago ("the Government") during its fiscal presentation in October 2021, at which the Government signaled its intention to sell additional shares held in First Citizens Group Financial Holdings Ltd.
The Government is offering 10,869,565 ordinary shares or 6.71% of its holdings in ordinary shares for sale to the public. The proposed date for the close of the sale offering is July 22, 2022. It should be noted that the Government would remain the majority shareholder of the Bank after the close of this Offer. First Citizens Brokerage & Advisory Services Ltd. is the Lead Broker for the APO.
First Citizens Group CEO Karen Darbasie stated that, "Backed by our strong history as the most highly subscribed IPO stock in the history of the Trinidad and Tobago Stock Exchange, we are confident that this Additional Public Offering provides the citizens of Trinidad and Tobago, with an opportunity to enhance their investment portfolio. We look forward to your substantial interest and welcome the public to capitalize on this offer."
The resounding success of the IPO and the follow up APO is evident in the size of the investing public, the returns to the shareholders and the continued strength and performance of First Citizens. As at the fiscal year end, September 30, 2021, the First Citizens Group recorded a year-on-year growth in profit before tax of 8.4% to $902 million. First Citizens has successfully grown its core operations over the past five years, evidenced by the expansion in its asset base, shareholders' equity and loan portfolio.
Additional information on the subscription process and required documents will be disseminated via print and electronic media, as well as via the First Citizens website, www.firstcitizensgroup.com.