First Citizens Visa Debit Card
Experience the safety and Convenience of your new Visa Debit Card!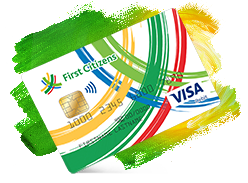 Get Security
Backed by chip smartcard technology your Visa Debit Card mitigates against "card present fraud"

Get Speed
Built in contactless feature capabilities, offer a quick and convenient check out.

Get Visa Benefits
Powered by Visa you get access to a world of added benefits

Here's how you can start enjoying these great features:
Get your card activated!
Activating your card is easy! Simply complete a successful transaction at any point of sale terminal or ATM, using the PIN received. Your initial transaction must be completed with the PIN provided, with the option to change your PIN thereafter, at any branch or ATM.
Know which fees apply where!
Card holder Fees: Your new card is absolutely free! However kindly note the following processing fees, which will be applicable in specific instances:
| TRANSACTION TYPE | VISA DEBIT CARD |
| --- | --- |
| FC Point of Sale | FREE |
| Non FC Point of Sale | FREE |
| FC ATM | FREE |
| Non FC ATM | BBD 3.00/transactions |
Identify your VISA product!
Based on account type all customers will be classified under a specific Visa product, with access to great benefits, specific to your Visa product category. Determine your Visa Product type by using the table below and visit the website to find out which benefits are applicable to you!
| YOUR ACCOUNT TYPE | | YOUR VISA PRODUCT |
| --- | --- | --- |
| First Citizens regular savings | First Citizens Fifty plus savings | Visa Gold |
| External savings | Golden Grand Savings | Visa Gold |
| Champion savings | Chequing | Visa Gold |
| Staff Savings | Chequing Plus | Visa Gold |
| Smart Saving | Staff Chequing | Visa Gold |
| Premium Savings | | Visa Platinum |
| Premium Chequing | | Visa Platinum |
| Sole Trader Business | | Visa Business Gold |
If you have any questions, or require feedback and support email emvdebit@firstcitizensbb.com