History
First Citizens Barbados is part of the First Citizens Group Headquartered in Trinidad and Tobago.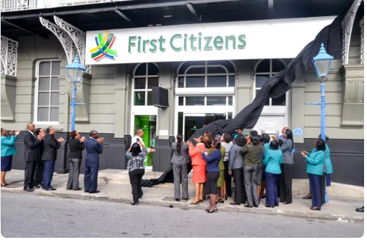 First Citizens Barbados is part of the First Citizens Group Headquartered in Trinidad and Tobago.
First Citizens was registered on March 9, 1993 in Trinidad and Tobago with capital and its objective was "to acquire and take over as a going concern" the business and assets of Worker's Bank, National Commercial Bank and Trinidad Co-operative Bank. Few people believed that the new Bank would survive. Fearing another collapse, depositors withdrew money and refused to do business with the new Bank.
By its first birthday, the Bank was able to declare a consolidated profit and had reduced the loan portfolio in arrears to 33% by August 1994 (it had been 62% in September 1993). The Bank also pioneered the Visa Gold International Credit Card and implemented the first phase of an information technology system which would push the Bank ahead in customer service.
Despite the internal troubles, the Bank was making progress. The operating income of the group grew, all 24 ATM machines were replaced, the Bank introduced the country's only real-time corporate cash management system (MIDAS) and eight branches were renovated and the staff complement was reduced from 1300 to 950.
In 1996, against the backdrop of a growing economy, the Bank continued to improve in performance. In 1995 it made a loss of TT$11M and in 1996 it made a profit of TT$18M. In 1997 the figure was TT$40M. In the public's mind however, First Citizens was the Bank that had been created from three failed institutions. In 1997 the Bank underwent a transformation program to overhaul its management procedures and culture.
Between 1996 and 2003 the Bank increased its profits from TT$40M to TT$233M, dramatically reduced its non-performing loan portfolio, slashed overhead ratios, pioneered and upgraded electronic technology and gained international accolades. Step by step, management rebuilt and strengthened the organisation. After 10 years, the Bank had doubled its asset base to US$1B and grown its profits by 1000 percent.
According to Mr. Howai (First Citizens former CEO), the Bank's secret to success is a loyal team, improving the quality of the workforce, keeping numbers down and new technology. First Citizens began with a poor image, huge bad-debt portfolio and an oversized network. In 1993 it was last in a field of six commercial banks.
By 2004, it had overtaken the third largest Bank. First Citizens is also recognised as the leader in technology, being the first to offer Internet Banking. In 2006 the Bank had shrunk its non-performing loans to 0.8%, the lowest in the sector.
The Bank continues to concentrate on improving its assets at home. The ongoing challenge continues to be how to attract and keep customers and to do so better than the competition.