Navigating the Green Energy Horizon In Latin America and the Caribbean
By: Saraya Ganesh Economic Analyst First Citizens Economic Research Unit
Commentary
In Latin America and the Caribbean (LAC), home to approximately 652 million people, sustainable development is a paramount concern for the future. Several countries in the region have emerged as global leaders in renewable energy integration, boasting a significant proportion of green energy in their electric grids. A noteworthy 33% growth rate in renewable energy capacity from 2015 to 2020, as reported by the Inter-American Development Bank (IDB), exemplifies the region's resolute commitment to eco-friendly energy solutions.
However, as the LAC region grapples with the global reality of climate change and its far-reaching environmental consequences, it becomes evident that their captivating landscapes and cultural diversity are not immune to these challenges. Balancing economic growth with environmental sustainability has placed these nations at the crossroads of complex environmental and economic considerations.
The impact of surging temperatures, intensified weather extremes, and the distressing depletion of natural resources reverberates worldwide. The unique geographical features of the LAC make it especially susceptible to climate-related disasters (Figure 1), emphasizing the urgency of addressing these formidable challenges.
In response to these pressing challenges, LAC has embarked on a remarkable journey to establish a sustainable energy ecosystem. The acceleration of green energy solutions mirrors the mounting concerns regarding climate change and environmental degradation. However, this transformation extends beyond mitigating the environmental footprint; it is equally recognized for its potential to stimulate economic opportunities and enhance resilience.
The International Monetary Fund (IMF) forecasts offer a positive glimpse into the future of the region, with an estimated 2.3% growth in the regional GDP for 2024. While this growth is not solely driven by the transition to green energy, it is expected that the adoption of green energy in LAC will bring substantial economic and employment advantages. By 2023, this transition is projected to create approximately 10.5% more employment opportunities, highlighting the positive prospects despite environmental challenges.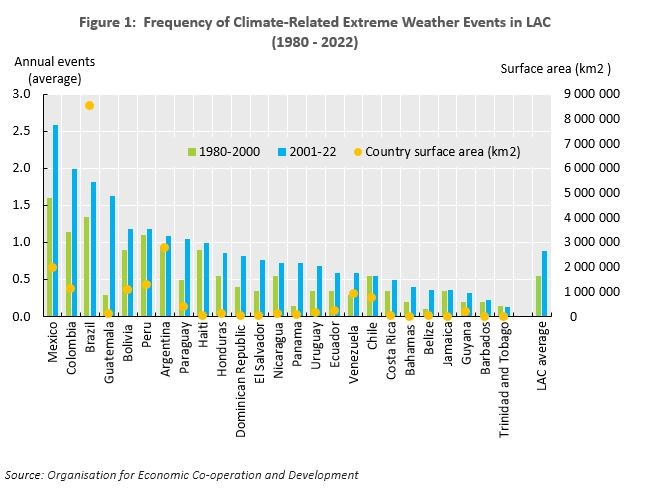 Brazil's Green Energy Dominance: An Economic Perspective
Brazil emerges as a global powerhouse in the field of renewable energy, achieving a remarkable feat by producing nearly 7% of the world's renewable energy. This accomplishment is particularly impressive given Brazil's relatively modest 3% share of the global population and a mere 2% of the global GDP, as reported by the International Energy Agency (IEA). The economic implications of this achievement are profound, underscoring the nation's robust and sustainable green energy sector. Brazil's transition towards cleaner energy not only underscores its commitment to environmental sustainability but also ushers in a multitude of economic advantages.
Foremost among these advantages is the significant role played by Brazil's green energy sector in job creation. In 2022, Brazil's renewable energy industry provided job opportunities for approximately 1.4 million individuals. Notably, the solar energy segment of this industry ranked fourth in new solar PV capacity installation in 2022, reflecting its substantial growth (International Labour Organization, ILO). The creation of such a vast number of jobs not only contributes to the expansion of the green energy sector but also stimulates local economies, fostering overall economic growth.
Brazil's green energy initiatives extend beyond its national borders, with a strategic focus on green hydrogen—a resource with considerable economic potential, particularly in the high-demand European market for low-carbon steel production. Brazil is well-positioned to become a formidable player in the global green hydrogen arena, presenting lucrative prospects for export. Anticipated cost reductions in green hydrogen production post-2030 enhance Brazil's appeal as a key supplier to the European market, according to analysis by Standards and Poor's (S&P). The implementation of the EU's Carbon Border Adjustment Mechanism further bolsters the economic outlook for Brazilian steel exports, emphasizing Brazil's dual role: contributing to a greener planet while capitalizing on sustainable practices for economic growth. The economic growth of Brazil's green energy sector is further amplified by continued investments, which are expected to surge. Additionally, the advent of offshore wind projects, with their potential for green hydrogen generation, promises to introduce economic diversification, further solidifying Brazil's position as a global leader in green energy.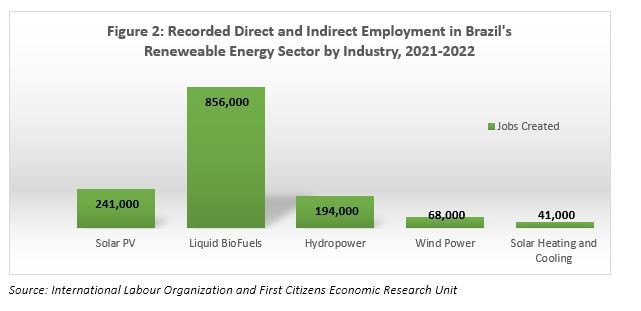 The Caribbean's Energy Transition Landscape
In the Caribbean region, the transition to cleaner energy sources has been characterized by slow and incremental progress. The smaller scale of Caribbean economies and energy grids has limited the scope of renewable-energy projects, often burdened by significant political, regulatory, technical, and financial challenges. Consequently, there is an urgent need for a comprehensive energy transition away from fossil fuels.
Barbados: A Prime Illustration of Urgent Change
Barbados serves as a prime illustration of the urgent need for an energy transition in the Caribbean, driven by two key economic factors: the economic consequences of climate change and heavy dependence on imported petroleum products. These economic challenges are exacerbated by the high electricity costs that impede economic growth and competitiveness, notably in tourism.
In response to these economic challenges, Barbados, though small in size, has made remarkable strides toward a greener energy future. The country is committed to achieving 100% renewable energy by 2030, with significant financial backing, including a USD30mn loan from the Inter-American Development Bank (IDB) in 2019, primarily directed at expanding solar photovoltaics. Barbados is diversifying its renewable energy portfolio, exploring wind, waste-to-energy, biomass, and ocean energy sources to modernize its energy grid, reduce economic burdens tied to energy imports, and stimulate job creation. This aligns with the economic objective of reducing oil expenditures, enhancing environmental sustainability, and achieving greater energy scrutiny, offering attractive economic opportunities for investors and developers.
The economic context is accentuated by Barbados' position as one of the Caribbean's most expensive places for electricity. This is coupled with a growing population and a thriving economy, which make Barbados an appealing market for renewable energy investments. In 2022, Barbados saw an increase in renewable energy usage, primarily solar energy, accounting for approximately 12% of its energy needs, up from 9% in 2021, underscoring its economic commitment to cleaner energy sources.
The World Bank has also recognized Barbados' efforts, approving a substantial USD100mn loan for green and resilient recovery development in early 2023, further highlighting the economic significance of sustainable energy development. Additionally, Barbados has also emerged as a pioneering nation in accessing the Resilience and Sustainability Facility (RSF) program with the IMF. This strategic decision resulted in substantial funding, including USD19mn through the RSF, which has been instrumental in supporting crucial measures. These measures encompass amendments to the Planning and Development Act to enhance road resilience, the approval of the water re-use bill to combat water security, and the effective establishment of the Barbados Environmental and Sustainability Fund (BESF) to bolster marine protection, among other vital initiatives. These combined efforts showcase Barbados' unwavering commitment to economic progress, resilience and environmental sustainability.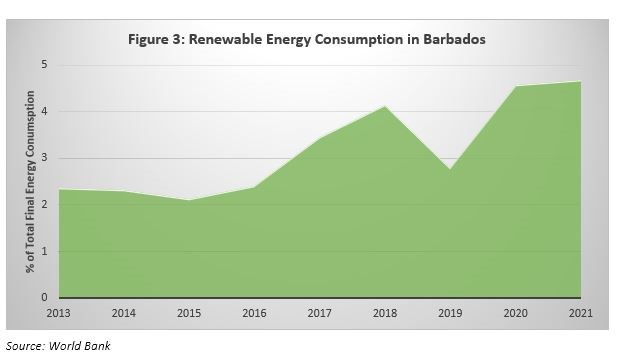 Green Financing for a Greener LAC
Green finance plays a pivotal role in driving sustainable and clean energy initiatives in the Latin America and Caribbean (LAC) region. Many LAC countries have secured funding tailored to boost their green energy projects, improving energy infrastructure and aligning with global sustainability objectives. Notable examples include Argentina, where the Inter-American Development Bank (IDB) approved a substantial EUR1.14bn credit line for clean energy. This funding supports Argentina's transition to cleaner energy sources, reducing greenhouse gas emissions and promoting social development. The Bahamas received up to USD170mn in 2019 from the IDB for solar energy projects, while Jamaica secured up to USD$13.3mn in loan financing in 2022 to develop photovoltaic solar generation. Green energy, aligned with the United Nations Development Program's Sustainable Development Goal 7 (SDG 7), focuses on universal access to affordable, reliable, sustainable, and modern energy for all. It involves significantly increasing the share of renewable energy in the global energy mix, doubling the global rate of energy efficiency improvement, fostering international cooperation in clean energy research and technology access, and enhancing energy infrastructure and technology in developing countries. SDG 7 embodies a universal call to action to combat climate change, promote sustainability, and ensure prosperity for all, with a specific focus on energy-related targets.
Challenges and Risks on the Road to Green Energy Transformation
Overcoming Hurdles on the Path to Green Energy Transformation
As the Latin America and Caribbean (LAC) region endeavours to achieve 100% renewable energy, it confronts a plethora of challenges that must be surmounted to realize this ambitious goal. Foremost among these challenges is the variability of solar and wind power sources, which are reliant on weather conditions and can be unpredictable, especially during adverse weather events. Furthermore, the substantial upfront costs associated with establishing renewable energy infrastructure, encompassing solar and wind farms, present a significant financial burden for governments and private sector entities alike. Securing the necessary funding, particularly for nations with limited economic resources, poses a formidable obstacle to the transition.
Conclusion
The imperative of enhancing infrastructure resilience cannot be understated in mitigating the economic repercussions of climate change and environmental issues. Investment in structural resilience not only promises notable increases in GDP and reduced public debt levels but also contributes to long-term financial stability, as emphasized by the International Monetary Fund (IMF). Additionally, a shortage of specialized technological expertise in developing and maintaining green energy systems adds to the array of challenges. Bridging this expertise gap will require international collaboration and investments in education and training programs to nurture the required skill set. In the face of these challenges, the journey towards green energy transformation in the LAC region is a demanding one, but it holds the promise of a sustainable future and enhanced economic resilience.
DISCLAIMER
First Citizens Bank Limited (hereinafter "the Bank") has prepared this report which is provided for informational purposes only and without any obligation, whether contractual or otherwise. The content of the report is subject to change without any prior notice.  All opinions and estimates in the report constitute the author's own judgment as at the date of the report.  All information contained in the report that has been obtained or arrived at from sources which the Bank believes to be reliable in good faith but the Bank disclaims any warranty, express or implied, as to the accuracy, timeliness, completeness of the information given or the assessments made in the report and opinions expressed in the report may change without notice. The Bank disclaims any and all warranties, express or implied, including without limitation warranties of satisfactory quality and fitness for a particular purpose with respect to the information contained in the report. This report does not constitute nor is it intended as a solicitation, an offer, a recommendation to buy, hold, or sell any securities, products, service, investment, or a recommendation to participate in any particular trading scheme discussed herein. The securities discussed in this report may not be suitable to all investors, therefore Investors wishing to purchase any of the securities mentioned should consult an investment adviser. The information in this report is not intended, in part or in whole, as financial advice. The information in this report shall not be used as part of any prospectus, offering memorandum or other disclosure ascribable to any issuer of securities. The use of the information in this report for the purpose of or with the effect of incorporating any such information into any disclosure intended for any investor or potential investor is not authorized.
DISCLOSURE
We, First Citizens Bank Limited hereby state that (1) the views expressed in this Research report reflect our personal view about any or all of the subject securities or issuers referred to in this Research report, (2) we are a beneficial owner of securities of the issuer (3) no part of our compensation was, is or will be directly or indirectly related to the specific recommendations or views expressed in this Research report (4) we have acted as underwriter in the distribution of securities referred to in this Research report in the three years immediately preceding and (5) we do have a direct or indirect financial or other interest in the subject securities or issuers referred to in this Research report.