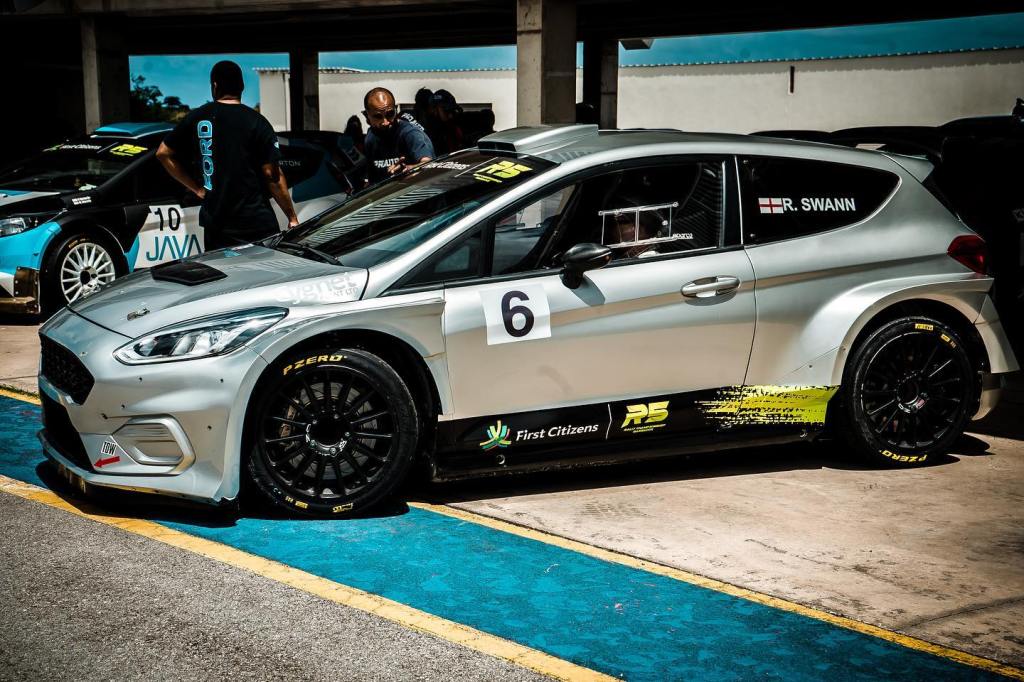 Extra rounds spice up R5 Rally Championship title fight
Two extra events added to the calendar for the R5 Rally Championship presented by First Citizens look set to spice up the title battle when action in the island's first-ever national motor sport championship sanctioned by the Barbados Motoring Federation (BMF) picks up again after the summer break next month. Following Sol Rally Barbados (June 4/5), the top six in the standings are covered by just under 50 points, with the potential maximum on offer now increased to 190 during the remaining four months of the extended season.
Points will now be scored in two Double-Header Sprints over the weekend of August 20/21. On the Saturday, the Motoring Club Barbados Inc (MCBI) event will count as two qualifying rounds worth 20 points in each direction, while the following day's Barbados Rally Club (BRC) event will be scored as a rally for the R5 contenders, based on cumulative times and worth 30 points.
The planned BRC Autocross in September has now been removed from the R5 schedule, but the Championship still has eight rounds to run. Following the August weekend, there will be the MCBI's Sun & Stars Rally (September 11) and Double-Header Sprint (October 15), the BRC's Winter Rally (October 16), then the Race Of Champions finale at Bushy Park (November 19), organised by Bushy Park Motorsports Inc (BMPSI).
After steadily building his advantage since winning the opening round in March in his Skoda Fabia Rally2, Stuart Maloney's title chase came somewhat unstuck in round seven, when he retired early on day two of Sol RB22, the highest-scoring round of the season. His advantage of 49 points in the standings has been slashed to just 20, with 49 points now the bracket which covers the entire top six.
Jamaica's Jeff Panton (Ford Fiesta Rally2) was second to Maloney after First Citizens King of the Hill (May 29), but he was another casualty of Sol RB22, retiring on the Saturday morning and slipping to sixth in the standings, the last driver in that 49-point bracket. Among those to benefit were Roger Hill (Fabia R5), whose 23rd top 10 finish in the island's premier event – a record not likely to be broken any time soon – catapulted him to second, and Britain's Rob Swann (Fiesta Rally2), who finished second in R5 on Sol RB22, climbing to third.
But the biggest news story of the KotH and RB22 weekends was the performance of series newcomer Josh Read, who had decided to retire the giant-killing Toyota Starlet in which he had been a leading light in the island's two-wheel-drive fraternity for many years, winning multiple BRC class titles. Replacing it with the Fiesta R5 formerly campaigned in the island by visitor Andy Scott, then local ace Sol Esuf, he finished fifth at KotH, then raised a more than a few eyebrows when he was fastest in the record 15-strong FIA R5 class on Saturday's first Pickering stage of Sol RB22.
While Maloney then took control, fastest of the R5 championship runners on six of the day's remaining stages, with Read and Mark Maloney (Fabia Rally2 evo) winning the other two, he would retire on Sunday's second stage. And that left Read with a 20secs advantage over Swann, with Hill another 30 or so seconds adrift in R5. And that was how it stayed, Read's second place overall behind WRC driver Dane Skeete (Subaru Impreza WRC S12) the first time two local drivers had featured on the Sol RB podium since 2011. That slotted Read in at an impressive fifth place in the standings, one point ahead of Panton, with Mark Maloney's fourth-place finishes on both KotH and RB22 consolidating his fourth place.
A host of guest drivers, not scoring R5 Rally Championship points, had heightened the competition at KotH, FIA Formula 3 racer Zane Maloney (Fabia R5) nailing the all-important dry third run to become the youngest winner since KotH was created by the BRC in 2008 as the final shakedown before Sol RB. He also led the first-ever clean sweep of the KotH podium by cars from the FIA R5 class, heading home his uncle Stuart and Britain's Frank Bird (Fiesta Rally2), whose father Paul won KotH in 2012 & '14.
A front-runner on the Saturday of RB22, the F3 racer was fourth overnight, but ran wide on the day's opening Kendal stage, knocking his right rear wheel off on a power pole and retiring. Meanwhile Bird, who was later excluded for being OTL, was the fastest R5 car on all but one of Sunday's stages, while Andrew Mallalieu (Fiesta R5) won the Bushy Park SuperSpecial which ended the day under floodlights.
R5 Rally Championship presented by First Citizens Points after round 7 1st Stuart Maloney (BAR), Skoda Fabia Rally2 evo – 116 points 2nd Roger Hill (BAR), Skoda Fabia R5 – 96pts 3rd Rob Swann (ENG), Ford Fiesta Rally2 – 91pts 4th Mark Maloney (BAR), Skoda Fabia R5/Rally2 evo – 86pts 5th Josh Read (BAR), Ford Fiesta R5 – 68pts 6th Jeff Panton (JAM), Ford Fiesta Rally2 – 67pts 7th Paul Horton (TCI), Ford Fiesta R5 – 55pts 8th Andrew Mallalieu (BAR), Ford Fiesta R5 – 46pts 9th Suleman Esuf (BAR), Ford Fiesta R5 – 26pts 10th Stan Hartling (CDN), Ford Fiesta R5 – 25pts 11th Brian Gill (BAR), Ford Fiesta R5 – 11pts 12th Ben Hartling (CDN), Ford Fiesta R5 – 5pts
Disclaimer
For media information only. No regulatory value.